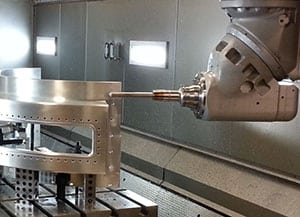 The Parpas XS 63 5-axis gantry machining center is the latest addition to Keller Technology Corporation's comprehensive machine shop. 5-axis movement makes the Parpas an ideal choice for machining hard-to-reach surfaces and deep cavities.
In addition to high speed and the ability to perform heavy-duty machining on hard materials (steel, Inconel, titanium, etc.), the CNC milling tool machines highly complex shapes with a single setup. Features include:
(3) interchangeable heads:

Roughing straight milling head (5K rpm)
Universal indexing right angle head (5K rpm)
Universal 5-axis high speed milling head (20 rpm)
Very large working envelope:

X-axis travel = 236"
Y-axis travel = 118"
Z-axis travel = 59"
Find out more about how Keller's 5-axis machine tool enhances your productivity.
Custom Vacuum Chamber 2
Hi-Speed, 5-Axis Machining